September 7, 2022
Lee and her husband Paul have a beautiful six-month-old baby. They are slowly adjusting to parenthood and its demands.
The couple were referred to the Society by a social worker from the hospital when baby Natalie was born. Lee and Paul were needing supports to help with their early parenting of baby Natalie and one of their main goal was to learn to read.
One of our Practitioners, Lucy has been working with them for the past 2 months.
We spoke to Lee and Paul to find out how they are travelling.
"The work with the Society has been awesome, Lucy took me to the Library during one of her visits and it was good.
My husband Paul and I got married a few days before our little girl arrived. I worked in cleaning services at the local Primary School and now I am on leave.
I didn't have any support before I fell pregnant. Once Natalie came along, we have had a lot of support from Paul's parents and also my Aunty and cousins.
I had Natalie at the Sunshine hospital, and we stayed there for four days, the support we had whilst we were there was amazing, that moment I became a mum felt so good. We were excited to take Natalie home.
We needed some help with Natalie's transitions, identifying and dealing with them but with the support of Lucy and Rachel who has introduced us to the SafeCare program it has made it easier.
I have been able to help baby with the teething and can read her signs better, she has six teeth now. She is on baby rice, and I am going to try her on sweet potato and banana next.  We also know that Natalie loves car rides, and she falls asleep when we drive.
I am lucky that Natalie sleeps throughout the night. Lucy is helping us with reading, each visit we read together and Natalie sits on someone's lap so she benefits from these sessions too.
We have bonded so well with Lucy. We have some chickens and Lucy loves them. I give Lucy some eggs as a thank you for her help."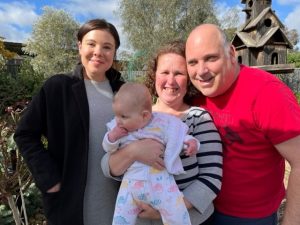 The Enhanced Maternal Nurse also visits once a month to do regular checks on Natalie and Lee's wellbeing.
At the Caroline Chisholm Society when our Practitioners are welcomed into the client's home we want to make them feel like they belong in the community. In the First 1000 Days we know the importance of stability and nurturing. We want to keep families together and help them thrive.